Hydrology Dept. Faculty
adam_johnson@skc.edu
406-275-4083
Piel Qlawqn Rm 132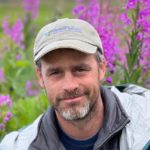 Adam received a B.A. in geology from Macalester College and a M.S. in hydrogeology from the University of Montana. He has about 20 years of diversified professional experience as a hydrogeologist, environmental scientist, and earth science educator. Adam taught in SKC's Environmental Science Department from 2003 to 2006, and recently returned to campus to teach courses in hydrology, groundwater, geology, and soil science. Between 2005 and 2014, he worked with CSKT elders, cultural leaders, educators, and others to develop a culturally relevant geosciences curriculum that focuses on important places and landscapes on the Flathead Reservation.
As a consulting hydrogeologist and environmental scientist since 2006, Adam specializes in water resources projects, assessment/remediation of contaminated properties, and Brownfields sites. He has supported the CSKT's Environmental Protection Division with Brownfields projects across the Reservation and is now working with the CSKT Water Resources Program on a groundwater-related project. He also helped develop an environmental consulting practice focused on tribal organizations. In addition to the CSKT, these include the Northern Cheyenne Tribe, the Blackfeet Tribe, the Colville Tribes of Washington, the Nez Perce Tribe of Idaho, and a non-profit tribal consortium in Alaska.
Adam has managed or worked on projects in the mining, energy, government, industrial-commercial, oil and gas, and water resources sectors. Geographic areas of experience include Mexico, South America, and most of the western United States. He has authored or co-authored peer-reviewed journal articles, government documents, and numerous technical reports. Prior to consulting, he worked for several federal agencies, including the U.S. Geological Survey, the National Park Service, and the U.S. Forest Service.